Buy now and get 7 items for free. (Total value of ₩ 299,990):
* The first 50 buyers receive a total of 7 gifts free of charge of ₩ 299,990 KRW.
The world's smoothest and smartest electric mountain bike
@ ₩ 850,000
*** Note: Only 100 bicycles are sold on a first-come, first-served basis. Offer without shipping.
Conquer with Anvene every day during commuting, leisure, hobbies, dirt roads, rocky terrain or harsh weather conditions. This is the all-weather electric mountain bike model you've been waiting for. An all-round bike for unpaved roads with cool features designed to conquer nature. In addition, it has a wide wheel and an electric assist pedal, making it a great place to ride in the city.
Adevene's electric mountain bike is equipped with an IP56 waterproof grade for four seasons (prevents dust from entering in any direction and prevents water from being sprayed by high pressure) to avoid affecting your adventure and commuting. became. The Class A 18650 Li-ion battery pack used in the product does not easily break down and functions well even in harsh weather such as winter, overload or extreme conditions. The battery can be locked in place via a key lock, the same lock can be used to lock the bike, and the bike can be secured against theft.
This bike, powered by up to 350 watts of motor power, lets you move quickly throughout your adventure. Six steps of pedal assistance that can run up to 80 km (50 miles) on a single charge, and pure electric drive mode allow you to travel from 0 to 32 km / 20 mph in seconds. In addition, the 9-speed Shimano gear system can be used even on rough roads without electric assistance, so you can use the bicycle like a regular bicycle.
* Due to the domestic law certification, products launched in Korea are blocked at 25 km / h.
Andersen said: "It's not enough to just live life. You have to see the sunshine, enjoy the freedom, and see the little flowers. "
Take your bike to nature, take in the sunlight, and feel the wind with the Advene electric mountain bike.
Two cool colored bikes have been released. – One additional color will be released when funds are met.
* Advene currently has one of two color options to choose from.
** When the target funding amount is reached, we will receive a vote from the sponsor community during the crowdfunding pre-sale campaign and provide additional special colors.
Two models selected for cycling needs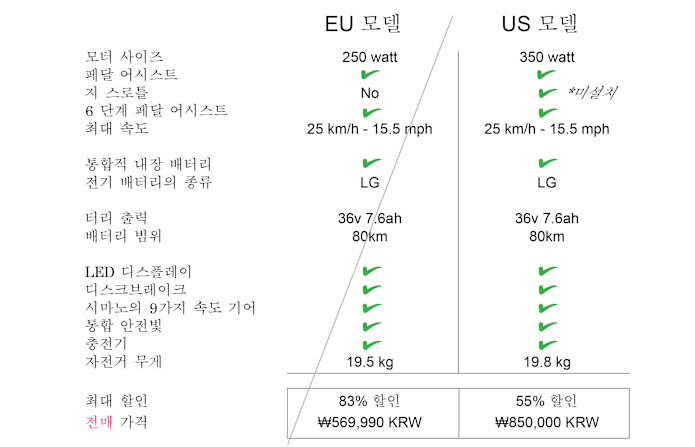 * There is no EU model stock.
Specification overview
 

Stylish bicycle frames

6061 grade frame made of light aluminum alloy
Durability to withstand up to 400 pounds (weight)
Base weight: 19kg
Two color options: passionate red, cool black
Battery patent technology

36v 7.6ah basic version
Can travel up to 80km
Basic charge time of 4-6 hours
When using a fast charger, it takes 2 to 4 hours (purchased separately)
Integrated battery – easy detachable
LG / Samsung / Panasonic's Class A 18650 Li-ion Battery Pack
This battery is easily fixed and can be removed from the frame with a key lock.
Powerful and quiet motor

250 watt booster motor, EU model
350 watt booster motor, US model
Max speed: 25km / hr (limited by Korean law)
Throttle for electric drive or pedal assisted riding

Thumb throttle can be attached to drive only by electric or to assist the pedal.
Anti-rust gear parts

Shimano's 27 speed gears
Riding for quick response with a reliable mechanical disc brake
Upgraded version of Tektro's hydraulic disc brakes
Upgraded version of Tektro's hydraulic disc brakes…
Excellent front lighting
Adjustable seat for maximum comfort
Perfect fit, clean steering wheel
Additional support-safe rubber handle
Proven wheels without puncture

27.5 "x2.128 wheel size for higher control and speed
Equipped with a proven puncture-free wheel strip
Passenger tire
Smart function

6 different speed smart options
Full speed throttle or pedal assist option
Automatic driving function
Easy movement speed adjustment
Configurable personal settings
Backlit LCD screen
Battery time, speed, distance display
Waterproof and dustproof
Upgraded version with USB charger
* The first 50 buyers receive a total of 7 gifts free of charge of ₩ 299,990 KRW.
** The next 49 donors will receive a total of 5 free gifts of ₩ 199,990 KRW. (Built-in USB charger, air pump, lock, portable holder, tool set)
*** During this pre-purchase period, each sponsor can receive at least 4 gifts worth ₩ 129,990. (Air pump, lock, portable holder, tool set)
**** Finally, during this pre-purchase period, a part warranty of KRW 1,699,990 worth will be provided to all sponsors.
The retail price is ₩ 1,699,990 and the commemorative launch price is planned to be ₩ 1,099,990. However, for this pre-purchase event, the special offer price starts at ¥ 850,000! Offer without shipping!
Recommendations:

Thoroughly guarantees a great adventure ride with Advene.